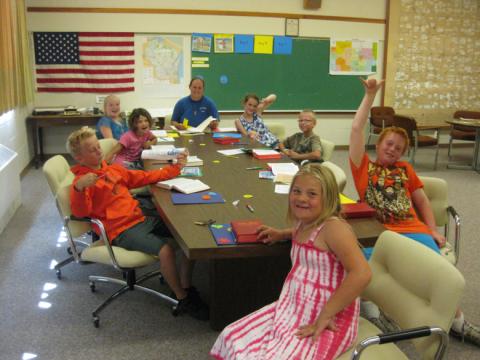 This week, the children in our joint Vacation Bible School learned vital truths from God's word. They covered the accounts of:
Adam and Eve's fall into sin, and God's promise of a Savior
Jesus' battle with the temptations of Satan in the wilderness
Jesus' suffering, death, and resurrection
God delivering his people through the Red Sea and caring for their needs in the wilderness
Jonathan's friendship with would-be King David
In addition, creatures from the sea were used to illustrate truths from these accounts:
The black dragonfish - illustrating the dangers of Satan's temptations
The pufferfish - illustrating how we can use God's word to ward off the attacks of the devil
The sand dollar - symbolically reminding us of various aspects of Jesus' saving work
The sea anemone and its relation to the clownfish - illustrating God's protection of his people
The dolphin - demonstrating help toward others
34 children registered for our joint VBS this year - up 26% from 2013 (whose figure was up about 35% from 2012). Seven teachers from three of the participating churches were called to teach the children during the week - five of them returning from last year. Three volunteers from two of the churches organized and helped with snacks. The three pastors shepherding the four participating churches led opening and closing devotions throughout the week. Three musicians assisted with the music. Linda Krenz did a tremendous job serving as our coordinator for the second year in a row.
In the closing service, the children sang the songs they had learned throughout the week, accompanied by piano, guitar(s), violin, and harmonica.
We thank God for his blessing on our VBS, and ask him graciously to cause his Word to bear fruit in the lives of these children and their families throughout their lives, for Jesus' sake.
Please browse the pictures below, taken throughout the week and provided courtesy of Linda Krenz.
Friday, July 25, 2014 - 21:45