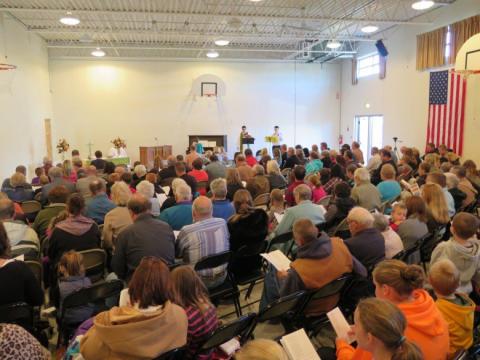 About 150 people attended our Fall Carnival Friendship Sunday on September 14 in the Town of Berlin Center. The attendees consisted of members of Grace, St. Paul, and Trinity, and friends and acquaintances they invited.
The day began with a service at 10:30 a.m., which highlighted not only what true friendship is, but also how God is our truest and most faithful friend. The congregation sung hymns like "Salvation unto Us Has Come" and "Your Works, Not Mine, O Christ" to piano, violin, and trumpet accompaniment.
Following the service, the attendees enjoyed a ham sandwich and potluck dinner prepared by the three participating churches. After the meal, the children participated in a duck race down by the creek or bounced around in the inflatable fun house sponsored by the Grace-St. Paul Strieter League (youth group). Others enjoyed a game of beanbag toss or tug of war, or chatted with friends while sipping a root beer float or orange soda float.
Thanks to all who made plans, helped set up, practiced and performed music, invited friends, served food, and otherwise contributed to making our fourth annual Friendship Sunday a success! Photos are courtesy of DuWayne Zamzow. Click here for more photos.
Saturday, September 20, 2014 - 12:00