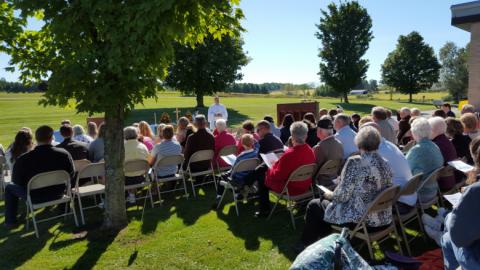 Attendees at Grace-St. Paul-Trinity's fifth annual joint Friendship Sunday on September 13 enjoyed a beautiful day.
At 10:30 they participated in a service in the sun-bathed yard of the Town of Berlin Center. The service was interspersed with familiar hymns accompanied by piano, trumpet, and violin. The Scripture readings from Exodus, 1 Timothy, and Mark highlighted the sinfulness of mankind and the grace of God in Christ, as did Pastor Biebert's sermon on 1 Timothy 1:8-17. "Who are the people who fill Trinity, and St. Paul, and Grace Lutheran Churches every single week, Sunday after Sunday?" Pastor Biebert asked the audience. "We are a church of chiefs, Chief Sinners, just like Paul." But later Pastor Biebert remarked, "The same grace and mercy [shown to Paul] has been shown to each one of us. In ourselves, we are sinful. But through faith in Christ we stand just as perfect and holy before God as Christ himself. That's why there's nothing better than being a church person, a Christian church person." You can read the entire sermon here.
Following the service, a delicious potluck brat, burger, and hot dog meal was served in the gymnasium. At about 12:20, Deputy Cory Gladden told the attendees about the Marathon County Sheriff's Department's K-9 program, and his work and relationship with his Belgian Malinois, Radar. At the end of the presentation he brought in the dog to showcase his sniffing ability. After Radar correctly identified the bucket with the drugs in it twice, he was rewarded with a tennis ball. "If we're after a substance and he finds it, his reward is a tennis ball," Gladden said. "If we're after a bad guy and he finds him, his reward is the bad guy."
A few people also stuck around after the presentation to play some beanbag toss.
For more pictures, see our Facebook album.
Grace-St. Paul-Trinity's joint Friendship Sunday service accomplishes a twofold purpose. It is an opportunity for the members of our three rural churches to work together as believers who share a common faith in Jesus Christ. And it provides our members with a perhaps less intimidating environment to which they can invite their relatives, friends, or acquaintances so that they too can hear the good news proclaimed every week at our churches.
Tuesday, September 15, 2015 - 17:20